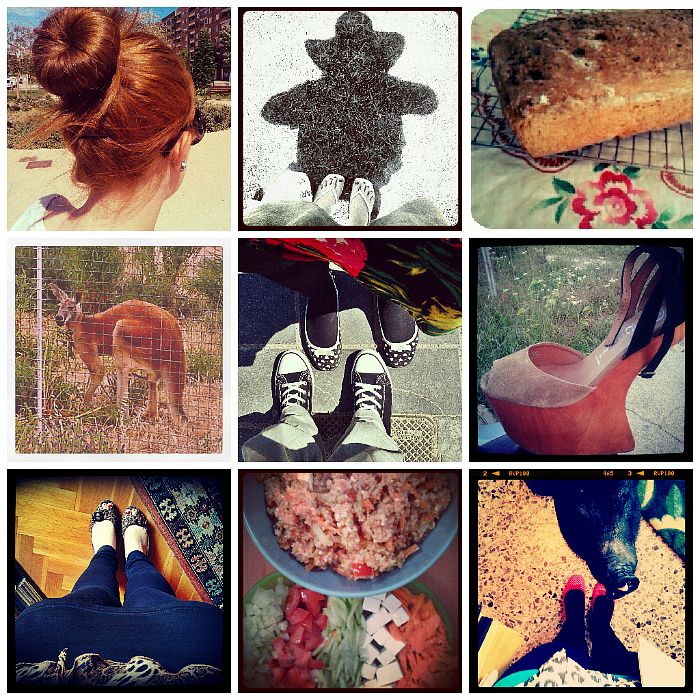 1. Big bun with my H&M hair sponge. Total success.
2. My shadow.
3. Nice bread loaf
4. A kangaroo!!!
5. Unintentionally coordinating feetshot.
6. Some shoeporn. Jeffrey Campbell Nightwalk. Ahh...
7. What I wore: double leopard.
8. Yummy dinner: taboulé and gazpacho.
9. Special guest feetshot.
I have finally got the hang on Instagram, totally understand why people get all obssesed and take photos of everything and post them up.
I have a few more to share, will be up some time next week, no more time today. :)
Quick post to say hi!
You all know how much I like to do great big and looong posts, but I just haven't been able to sit down and do any blogging this weekend..
Hope to be able to get back on tracks this week.
Completely unrelated topics:
♥
Would you like to trade buttons for a little more internet exposure? send me an email!
♥
Listening to Gotye: "looking for an easy way out, nananana!" (this is me singing along).
Hope you've had a great weekend and you enjoy the new week that is about to start.
Like us? Follow us on Google Friend Connect,